Computing – curriculum information
Intent:
At Bricknell Primary School, we strive to deliver a high-quality Computing curriculum which allows our pupils to recognise the significance of digital technology in their everyday lives. We explicitly teach pupils the skills and knowledge they need to become creative, digitally literate, computational thinkers.
We encourage curiosity about digital technology and encourage our pupils to ask questions about the digital systems around them. We explore how technology is used in the real world and how to use it in a safe and responsible way. We ensure all children are exposed to high-quality Computing teaching and a range of learning experiences.
By teaching Computing, we intend to impart pupils with the knowledge, understanding, confidence, attitudes, values and skills they need in order to reach their potential as individuals in an increasingly technological society and in the digital community.
At Bricknell Primary School, the teaching of the Computing curriculum has been carefully considered to enable our pupils to become digital citizens. At Bricknell, we teach the curriculum using the Teach Computing scheme. Our highly skilled subject leader has carefully worked to create a Progressive Skills Document where objectives for each year group are progressively mapped out to ensure our pupils are given the acquired skills and knowledge the further their education journey into KS3 and life beyond the classroom.
Our aim is to provide inclusive and aspirational environments and learning experiences where pupils thrive and build the cultural capital they need to make aspirational choices about their own futures, overcoming any barriers. In order to achieve this, our curriculum is underpinned by the principles highlighted in our Aspiration Curriculum.
Bricknell Aspiration Curriculum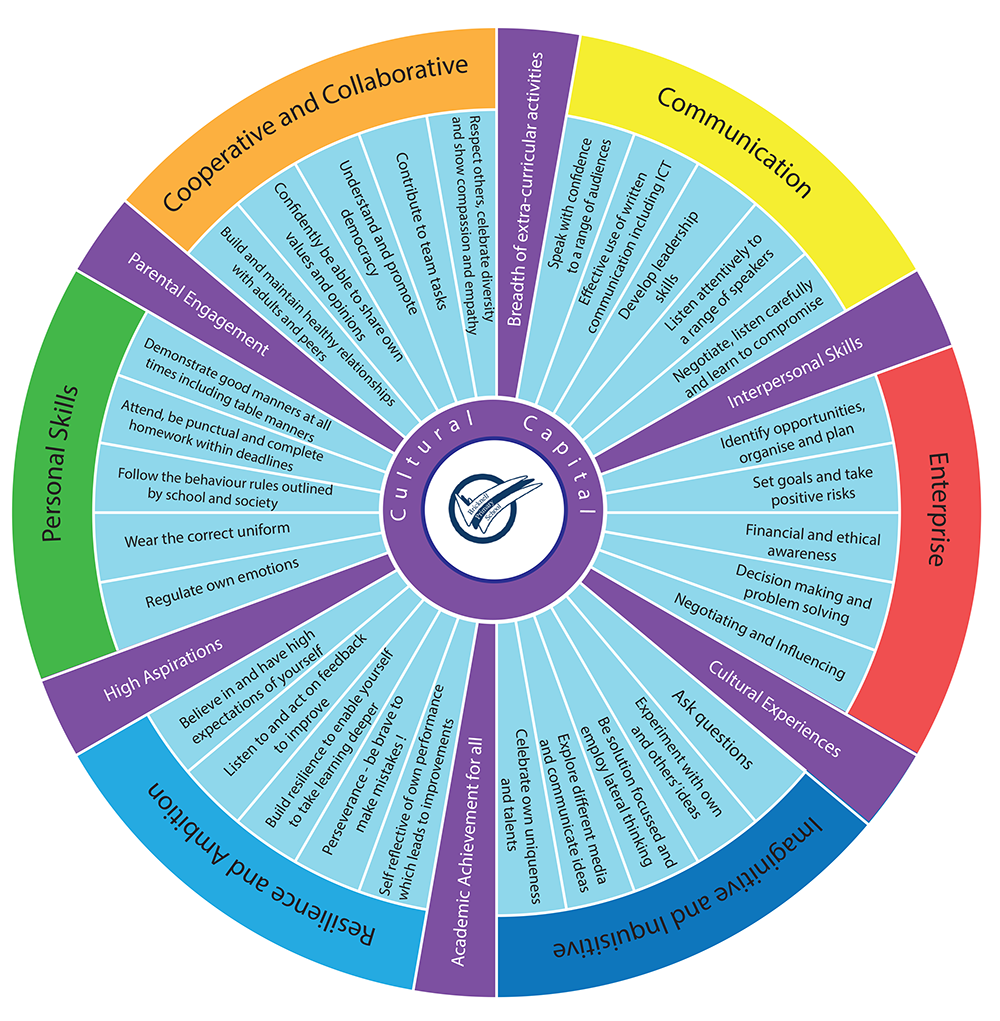 Please click the image to enlarge
Within the Computing Progressive Skills document, our progressive objectives identify what pupils should know by the end of each year group and link to prior learning. These enable teachers to identify and plug gaps in pupils' knowledge and skills. Within Computing, pupils will develop a deep understanding of key concepts and second order concepts. These key concepts have been carefully considered and identified as the core knowledge, skills and confidence to engage with technology required to successfully achieve in a digital world. The Key concepts are revisited and developed as the pupils move through the school to ensure the knowledge, skills and confidence to engage with technology are firmly embed within the long term memory. These key concepts compliment work carried out across the school in line with Aspiration Curriculum. The expectation is that, by the end of Primary School, children will know and understand these key concepts and have the ability to use technology and understand its uses in readiness for KS3.
In addition to first order concepts, the subject leader has identified subject specific second order concepts. These can be used across all aspects of the subject to organise the substantive knowledge and skills taught.
First order concepts:
Computing systems and networks: (systems, networks and how they are used, the internet, hardware and software)
Programming: (interpreting, creating and evaluating algorithms, programming to accomplish specific goals, detecting and correcting errors)
Data and information: (collecting, analysing, evaluating, presenting data and information)
Creating media: (design and development, communicating and collaborating online, evaluating online content, respectful and responsible communication, presenting, creating content)
As part of the work on each key concept, children also explore and learn about:
The effective use of tools
The impact of technology
Safety and security
Second order concepts:
These can be used across all aspects of a subject to organise the substantive knowledge taught.
Responsibility: (being safe online, using social media responsibly and respectfully, privacy, cyberbullying)
Similarity and difference: (making comparisons, finding patterns, noting differences and drawing conclusions)
Cause and consequence: (inputs and outputs, programming)
Significance: (significant inventions, significant figures from the world of computing )
Chronology: (changes in technology over time, inventions, future technology)
Written and oral expression: (Using Computing terminology, using technology to support and improve communication, using technology to presenting and interpreting data, digital media)
In Computing, by the end of EYFS children will be able to:
Recognise that a range of technology is used in places such as homes and schools. They will be able to select and use technology for particular purposes. This includes operating and completing a range of simple programmes with an understanding of what they can achieve.
By the end of KS1, children will be able to:
Develop the basic skills of computer science in order to create simple programmes which employ the use of algorithms with an understanding of what algorithms are. Pupils will be able to find errors in their programmes and predict outcomes. As digital citizens, pupils will know how to keep themselves safe online in a range of ways including how to respond to inappropriate contact and content. They will also understand how to keep their information private and also be able to identify cyber-bullying, knowing what actions to take if they encounter it. Pupils will have a secure understanding and range of information technology skills. They will be able to locate and handle information from a range of digital sources including the online world.
By the end of KS2, children will be able to:
As computer scientists, pupils will develop further skills to create and manipulate programmes, using elements such as variables and debugging and be able to talk about intended and specific outcomes. Pupils will have a secure understanding of the role of algorithms and be able to successfully use them. As digital citizens, pupils will have a secure understanding of how to keep themselves safe online. This includes identity and password security, identifying inappropriate and inaccurate content and being aware of cyber-bullying and knowing how to respond to it. It is essential that pupils have a sound knowledge of how to be a positive and responsible member of the online community. In the use of information technology, pupils will be able to select and manipulate software and online resources to create their own digital content. Pupils will have a range of skills including being able to analyse, evaluate and present information on a range of devices for specific purposes.
Any child working below their age-related expectation will receive a tailored curriculum with personalised objectives taken from the Curriculum Assessment Toolkit. This will enable all children to build the skills and knowledge needed to bridge the gap between themselves and their peers, enabling them to reach their full potential.
Implementation:
At Bricknell Primary School, our curriculum has been carefully mapped out into a Long-Term Plan by our highly skilled subject coordinator. This enables links between subjects to be identified and carefully planned for that support pupils' retention of knowledge, acquisition of skills and the development of the confidence to engage with technology
The academic year is broken down into six units that can be taught in any order.
At Bricknell, all Computing lessons will follow the same teaching sequence outlined below: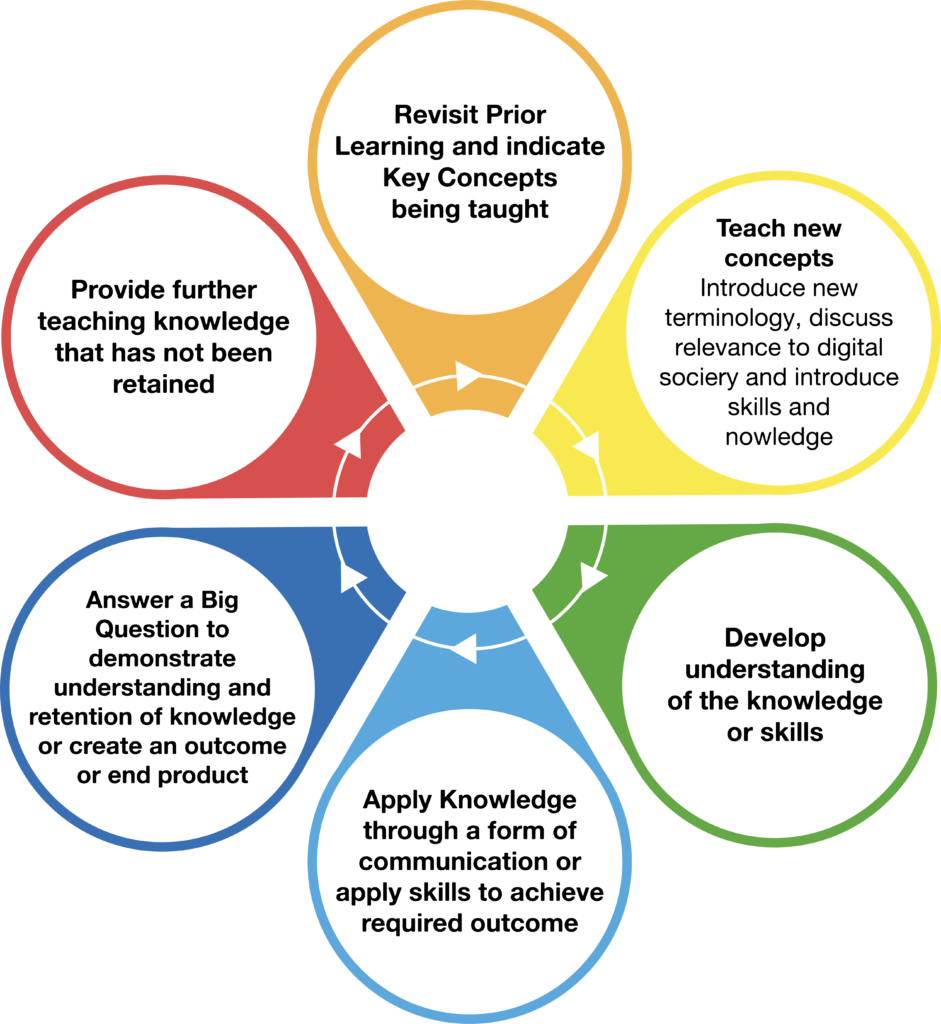 Impact:
The successful, collaborative approach to the teaching of Computing across the Constellation Trust results in an engaging, high quality education that allows pupils to understand the world around them and encourages them to explore digital technology further as they leave primary school.

A wide range of strategies are used to measure the impact of our Computing curriculum. Our teaching sequence allows children to respond to a 'Big Question' in the knowledge-based aspects of the curriculum. End products will be used as a basis for assessment in the skills-based strands.
The impact of our curriculum is monitored at the end of each unit. Teachers use assessment to ensure our pupils have gained the intended knowledge and skills, can use these effectively and know more, remember more and are able to do more.
By the end of the primary school education, pupils will:
Understand how to use algorithms to solve problems
Be able to use a computer programme to write code to perform a task
Be able to use mathematical and logical concepts to solve problems
Understand different networks and how they communicate
Understand how to work safely and responsibly online, how to recognise and report security issues and concerns
Be able to explain the different hardware in computers and how they work together
Be able to evaluate real world issues by using personal experiences and real life examples.
Our pupils develop the knowledge, skills and cultural capital needed to ensure they successfully progress onto the next stage in their education and life and develop into responsible, respectful and resilient citizens.
Our Subject Leader will also monitor the effectiveness of the Computing curriculum through carrying out regular subject 360 evaluations. These evaluations are quality assured by the Senior Leadership and Governors.
The effectiveness of Computing is also monitored through pupil and parental voice throughout the course of the year.
Further information:
'She is very happy at school and I only hear positive things.  Many thanks to all the teaching staff.'
- parent comments
'Very happy with my child's start to year 5.'
- parent comments
'We are very happy with Bricknell as a whole.  He is becoming more confident and is well supported.  Thank you to all of the teachers.'
- parent comments
'My son is extremely happy in all aspects of school.  Fantastic teacher and an excellent education. '
- parent comments
'She is enjoying school a lot.  She is challenged appropriately and not over-loaded with homework.  She speaks positively about her time at the school and her teacher.'
- parent comments
'Thank you for helping us with her worries and for the support.'
- parent comments
'We couldn't be happier with the care and education my child has received so far.'
- parent comments
'Positive environment and appropriate challenge for development, excellent.'
- parent comments
'I am delighted with how happy she is at school.  Her skills are clearly progressing and she is extremely well supported.  Her teacher clearly knows her very well.'
- parent comments
'Any concerns raised have been dealt with swiftly.'
- parent comments
'Thank you so much to all of the  members of staff; our child is extremely happy here and we are very grateful.'
- parent comments
'I cannot fault the school or staff.  Everyone is very supportive.'
- parent comments