PSHE – curriculum information
Intent:
PSHE/SMSC is the heart of the school's ethos and is fundamental to developing young people with positive attitudes and well rounded members of society. By teaching PSHE/SMSC, we intend to impart pupils with the knowledge, understanding, confidence, attitudes, values and skills they need in order to reach their potential as individuals and within the community as well as knowing how to keep themselves safe.
At Bricknell Primary School, the teaching of the PSHE/SMSC curriculum has been carefully considered to enable our pupils to become global citizens. At Bricknell, we follow the Jigsaw PSHE programme and are proud to be a flagship school. Our highly skilled subject leader has carefully worked to create a Progressive Skills Document where objectives for each year group are progressively mapped out to ensure our pupils are given the acquired skills and knowledge to further their education journey into KS3 and life beyond the classroom. The PSHE Progressive Skills document is fully compliant with the 2020 Statutory Guidance.
Our aim is to provide inclusive and aspirational environments and learning experiences where pupils thrive and build the cultural capital they need to make aspirational choices about their own futures, overcoming any barriers. In order to achieve this, our curriculum is underpinned by the principles highlighted in our Aspiration Curriculum.
Bricknell Aspiration Curriculum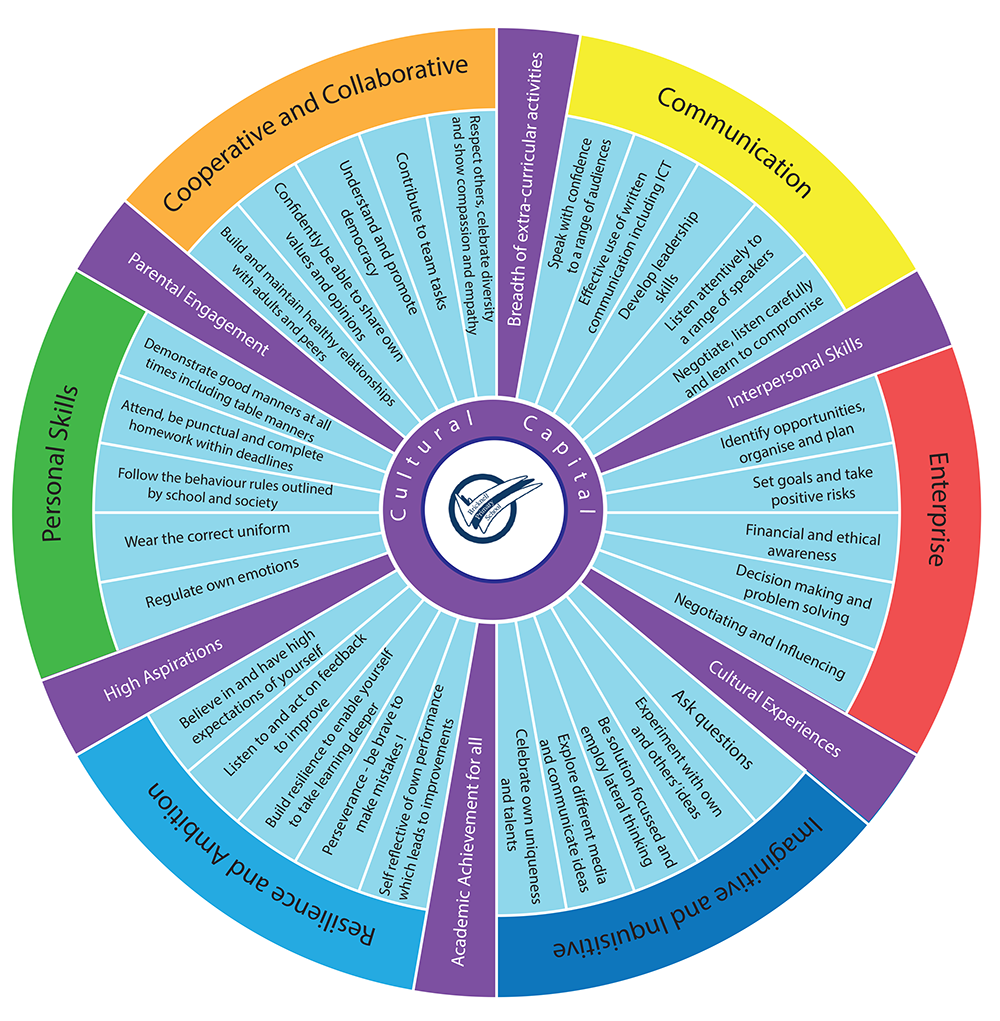 Please click the image to enlarge
Within the PSHE Progressive Skills Document, our progressive objectives identify what pupils should know by the end of each year group and link to prior learning. These enable teachers to identify and plug gaps in pupils' knowledge and skills. Within each subject, pupils will develop a deep understanding of key concepts and second order concepts. These key concepts have been carefully considered and identified as the core knowledge, skills, behaviours and attitudes required to successfully achieve in all areas of life. The key concepts are revisited and developed as the pupils move through the school to ensure the knowledge, skills, behaviours and attitudes are firmly embedded within the long term memory. These key concepts compliment work carried out across the school in line with Aspiration Curriculum. The expectation is that, by the end of Primary School, children will know and understand these key concepts and have the ability to be socially and emotionally equipped to enter KS3.
In addition to first order concepts, the subject leader has identified subject specific second order concepts. These can be used across all aspects of a subject to organise the substantive knowledge, skills, behaviours and attitudes taught.
Key concepts:
A range of these ideas are explored through each PSHE unit and provide lenses through which to consider different aspects of this area of the pupil's personal development.
Being me in your world (Who am I? Understanding your own identity and how I fit well in the class, school and global community)
Celebrating differences (Understanding diversity, respect, anti-bullying including cyber and homophobic bullying)
Dreams and goals (achievement, goal-setting, aspirations, who do I want to become and what would I like to do for work and to contribute to society)
Healthy me (body and mind, drugs and alcohol education, self-esteem, confidence, healthy lifestyles, sleep, nutrition, rest and exercise)
Relationships (Friends, family and other relationships, conflict resolution and communication skills, bereavement and loss)
Changing me (Change, transition, relationships and Sex Education)
Second order concepts:
These are PSHE / life skills that are taught and applied through each unit of the PSHE curriculum. These skills build progressively as pupils move through the school.
Emotional literacy – (Self-awareness, social skills, empathy, motivation, managing feelings)
Responsibility – (Personal responsibility, responsibility towards others, relationships, world of work, staying safe, health)
Resilience – (Developing strategies for resilience, ambition, personal best, managing emotions)
Written and oral expression: (Using social and emotional literacy to confidently discuss personal experiences and the experiences of others in a variety of ways, making comparisons and links, explanations, awareness of audience, using evidence to support statements)
In addition to the Key Concepts and Second Order Concepts, we also promote SMSC, British Values and Protected Characteristics. These are key strands that are embedded across the whole PSHE curriculum and are revisited in most lessons. Therefore, the following concepts are explored through the PSHE curriculum:
Social development
Moral development
Spiritual development
Cultural development
Emotional development
Democracy
Rule of Law
Individual Liberty
Mutual Respect
Tolerance of those of different faiths and belief
Age
Gender Reassignment
Being Married or in a Civil Partnership
Being pregnant or on Maternity leave
Disability
Race
Religion
Sex and Sexual Orientation

In PSHE, by the end of EYFS children will:
Begin to develop and form positive relationships with adults and other children. This can be seen as they begin to show sensitivity towards others' needs and feelings while playing cooperatively and understanding turn-taking. In addition, the children will be developing their self-confidence and self-awareness by demonstrating that they can take risks in trying new activities. These children will be able to articulate when and how they need help, even in groups. Furthermore, when managing feelings and behaviour, they are able to show and talk about their own emotions as well as those of others. They will also understand how to differentiate between positive and negative behaviour and understand that unacceptable behaviour could have consequences.
By the end of Key Stage 1 children will:
Develop their awareness of themselves and others in contexts which are familiar to them – such as their home and school. They will also be able understand how their behaviour impacts others around them and how to keep themselves safe and happy. The children will be able to identify what makes us all individual and unique and celebrate diversity within Bricknell Primary School. Closely related, children will be able to articulate their understanding of bullying and recognise the negative impact it has. When considering their aspirations and goals, children can express how they feel when they succeed and can begin to work collaboratively in groups to achieve a common goal. Children will be able to understand how their body has changed from being a baby and can use the correct terms to describe parts of their body that are private. As well as this, children will know how to take care of their bodies and mental health by leading a healthy lifestyle.
By the end of Key Stage 2 children will:
Be able to apply their understanding of themselves and others into the wider context of their communities and the world. Children will leave primary school with the skills needed to be a well-rounded member of society with a concrete understanding of their emotions and how to manage them effectively. By building on their knowledge from Key Stage 1, children will have further explored the diverse world we live in and will have built an understanding of the negative impact discriminatory behaviour can have whilst showing empathy with victims of this crime. In addition to this, children will understand how their body changes through puberty and into adulthood. Children will unravel the complex and confusing emotional changes that they experience during this stage of their lives. Furthermore, children will have an understanding of the detrimental impact that negative relationships with food, substances and media can have on their bodies and mental health. In order to be able to progress into Key Stage 3, children will set themselves aspirational targets and understand how their dreams and goals could be different to those of another child, from a different culture. They will be resilient children who have the correct tools to deal with and overcome challenges and set-backs. Children will be able to take their aspirations and apply them to the wider world allowing them to become a role model and a positive global citizen.
Any child working below their age-related expectation, will receive a tailored curriculum with personalised objectives taken from the Curriculum Assessment Toolkit. This will enable all children to build the skills and knowledge needed to bridge the gap between themselves and their peers enabling them to reach their full potential.
Implementation:
At Bricknell Primary School, our curriculum is carefully mapped out into a Long-Term Plan by our highly skilled subject coordinator. This enables links between subjects to be identified and carefully planned for to support pupils' retention of knowledge, skills, behaviours and attitudes.
The academic year is broken down into six puzzle pieces. PSHE is taught discretely through each of the puzzle pieces and outcomes are demonstrated in the Class Book.
At Bricknell, all PSHE lessons will follow the same teaching sequence outlined below: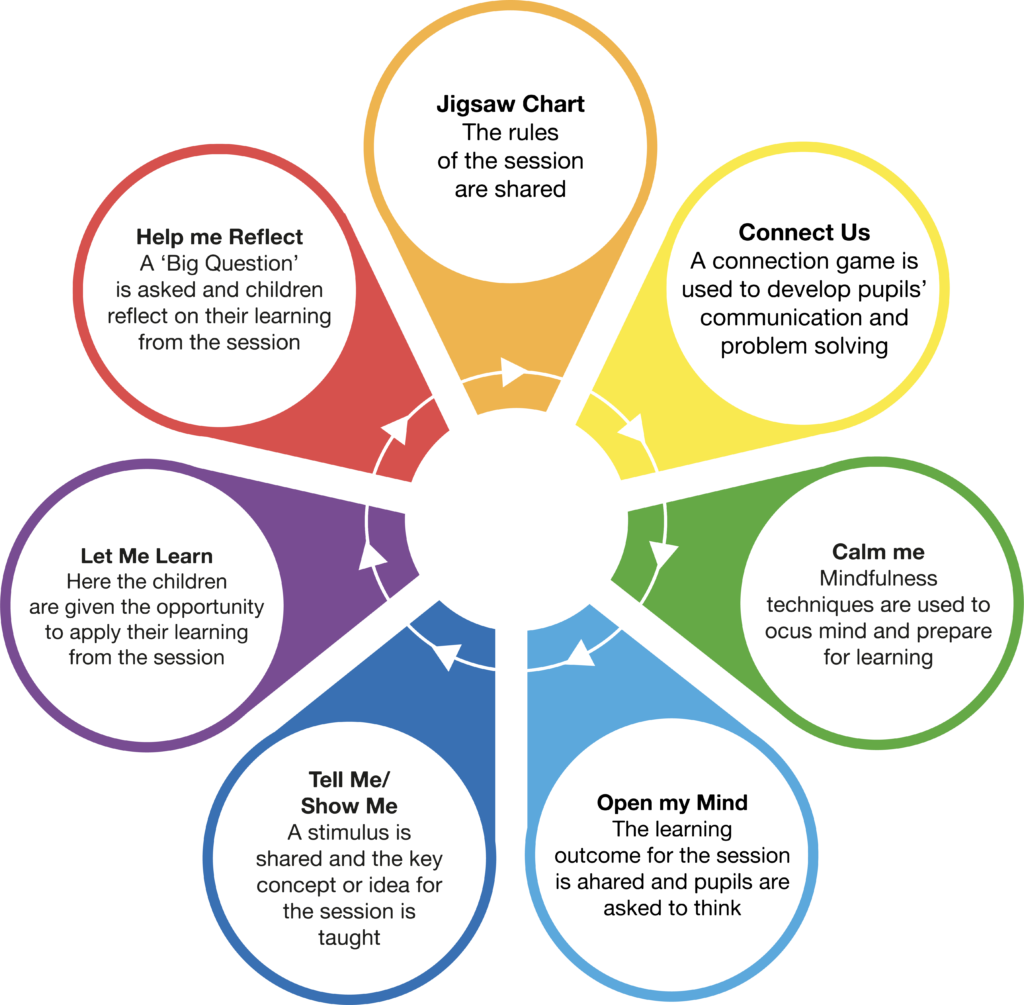 In addition to the discrete PSHE lesson, all pupils will be included in a PSHE assembly focusing on celebrating the puzzle piece for that week, a Safeguarding assembly, a Citizenship assembly and a celebration assembly. Throughout the school, mindfulness will also be practiced as the children come in from lunch to prepare their minds for their afternoon of learning.
Impact:
A wide range of strategies are used to measure the impact of our PSHE curriculum. Our teaching sequence allows children to respond to a 'Big Question' and to assess how they feel they achieved in each session. The impact of our PSHE curriculum is also monitored daily across the school in a variety of different environments across structured and unstructured times. The behaviours and attitudes of all pupils is also monitored, reflected upon and celebrated during weekly Jigsaw assemblies.
As a flagship school, we receive regular monitoring visits regarding the implementation and impact of our PSHE provision which provides us with external validation for a robust curriculum.
Teachers assess weekly by carrying out holistic assessments at the end of every discrete Jigsaw session and half termly in summative assessment using an internal assessment tool. As a result of these assessment tools, pupils' misconceptions or gaps in subject knowledge, skills, behaviours and attitudes are addressed and additional teaching and support is provided. At Bricknell, we offer a variety of additional support for children who are struggling with the Social and Emotional areas of learning. We have highly skilled members of staff trained in ELSA, a dedicated Safeguarding officer and wellbeing coordinators.
In EYFS, staff professional judgements are valued. Assessments are formative so that they quickly make a difference to children's learning. They inform the provision of activities and experiences which develop children's skills and knowledge as well as giving opportunity for further practise. We record WOW moments on Tapestry and build up a detailed picture of each child using a Child on a Page document.
Our Subject Leader will also monitor the effectiveness of the PSHE curriculum through carrying out regular subject 360 evaluations. These evaluations are quality assured by the Senior Leadership and Governors.
The effectiveness of PSHE is also monitored through pupil and parental voice throughout the course of the year.
Further information:
'Any concerns raised have been dealt with swiftly.'
- parent comments
'Positive environment and appropriate challenge for development, excellent.'
- parent comments
'We couldn't be happier with the care and education my child has received so far.'
- parent comments
'She is very happy at school and I only hear positive things.  Many thanks to all the teaching staff.'
- parent comments
'I am delighted with how happy she is at school.  Her skills are clearly progressing and she is extremely well supported.  Her teacher clearly knows her very well.'
- parent comments
'Thank you so much to all of the  members of staff; our child is extremely happy here and we are very grateful.'
- parent comments
'We are very happy with Bricknell as a whole.  He is becoming more confident and is well supported.  Thank you to all of the teachers.'
- parent comments
'She is enjoying school a lot.  She is challenged appropriately and not over-loaded with homework.  She speaks positively about her time at the school and her teacher.'
- parent comments
'My son is extremely happy in all aspects of school.  Fantastic teacher and an excellent education. '
- parent comments
'Very happy with my child's start to year 5.'
- parent comments
'Thank you for helping us with her worries and for the support.'
- parent comments
'I cannot fault the school or staff.  Everyone is very supportive.'
- parent comments